Picks, Nippers, Clinchers, Rasp and all Hoof related products!


Grooming Products, Shines & Sprays
Shampoo, Conditioners, Pepi, Fly Sprays, Braiding Bands, and everything else grooming related!!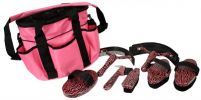 Complete Grooming Kits and totes/caddies for carrying your supplies


Horse deworming products


Products to aid in clipping and grooming!


Buckets, Feeders, Feed Scoops, Bucket Holders and Hangers
Everything needed to feed the Horseys!



Lights, Trailer Ties , and things you might need on your trailer!!


Driveway markers, reflectors and rain gauges